The New WMS gives even more at no cost
The not-for-profit World Mind Society has been actively serving the highest human interests since 1987. We went on-line in early 2000, and have been providing you, our valued readers, with an ever-expanding set of valuable tools for physical, mental and spiritual excellence.
Our on-line Library at http://www.eoni.com/~visionquest/library.html is the most comprehensive collection of free writings in the world, on such subjects as the expansion of consciousness, natural and simple living, truth, the ills of society and its remedies, meditation, intentional community, entheogens, mental development, and much more. All in all, there are at least 3 books of enlightening material contained on our "shelves". To this collection we just added 13 more articles, marked "New" in the Library for your benefit.
Our site also offers a collection of psychedelic desktop artwork for your use and enjoyment. To this collection we've added 20 new masterpieces of color and form.
Lastly, we just created a professional music album entitled, "That Which Raises" dedicated to the expansion of the listeners' consciousness. This meditational booster is quite unlike anything ever made before. Six sample tracks of this new and higher music are now on this page for your listening enjoyment (See Below).
This is your opportunity to contribute
If you've gained benefit from our entirely free articles, music, artwork, mailings and forum posts over the last 6 years, now is your chance to help promote the World Mind Society cause to uplift the human condition. To help us cover Internet, printing and other costs, send us what donation you can. Your investment in this case is in wisdom, intelligence and spiritual advancement, for the entire human race.
Never have we asked anything of you before, our regular readers and listeners, other than your careful consideration of the truth. Now, we'd like you to consider sending us a donation to become an active contributor to the WMS Cause.
For those of you who donate $20 or more, we'll send you a copy of our just released, professionally made, music CD. This is a very special meditational album, as unique and penetrating in character as our articles. A copy of the CD insert says the following about this music;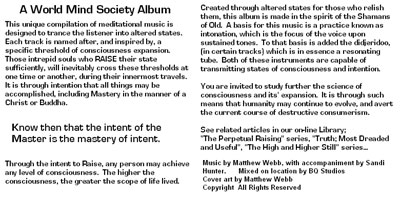 The front and back cover;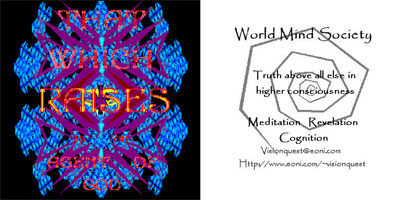 Send us a check or money order, (preferred) of $20 or more, and we'll ship your exclusive album for free.
Make these payable to:
Matthew Webb or Sandi Hunter
PO Box 283
Port Orford, Oregon 97465
You are listening to a sample track; "I Am That" from the new album; "That Which Raises". If you don't near the music, click on player to start. Windows Media Player will not work in some browsers.
Below is a Title List of the songs on this album. To hear a sampling of each song, click on the link. (Links will open your default audio player. Songs are in the Windows Media Audio format.)

Our many thanks to the caring and wise of the planet, who understand what is truly important in life. It is in your hands that the future of the world rests.
Love and Clarity,
Matthew Webb visionquest@eoni.com
The World Mind Society http://www.eoni.com/~visionquest
Previous Page